Niagara 7000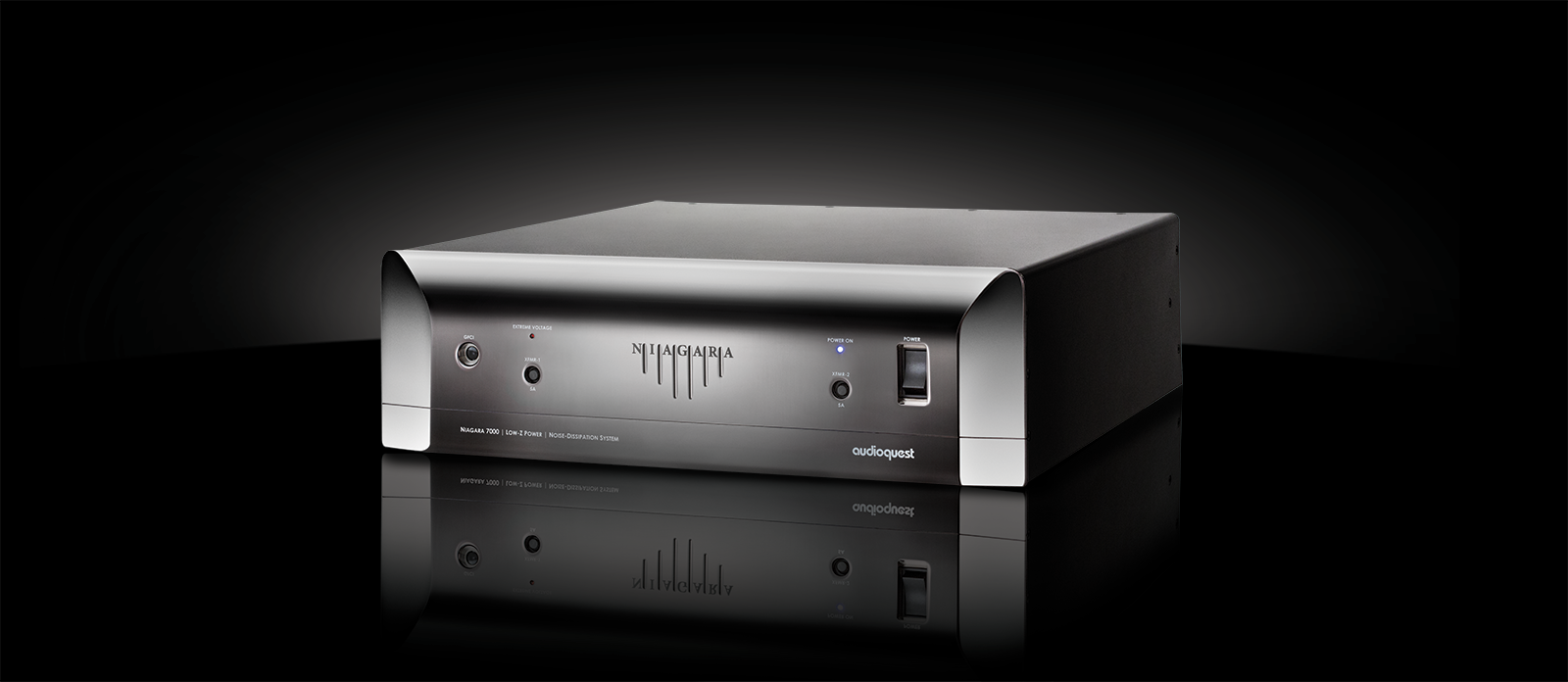 Redefining the science of power conditioning
In the Niagara 7000, you'll find optimized radio-frequency lead directionality, run-in capacitor forming technologies developed by Jet Propulsion Laboratories and NASA, and AC inlet and outlet contacts with heavy silver plating over extreme-purity copper assuring the tightest grip possible.
The Niagara 7000 uses a patented AC Ground Noise-Dissipation System, the world's first Dielectric-Biased AC Isolation Transformers, and the widest bandwidth-linearized noise-dissipation circuit in the industry.
The unique passive/active Transient Power Correction Circuit features an instantaneous current reservoir of over 90 amps peak, specifically designed for today's current-starved power amplifiers. Most AC power products featuring "high-current outlets" merely minimize current compression; the Niagara 7000 corrects it.
With an AudioQuest Niagara 7000, music lovers can finally experience the clarity, dimensionality, frequency extension, dynamic contrast, and grip their A/V systems have been capable of delivering—if only the power had been right!
Dielectric-Biased AC Isolation Transformers: AQ's patented technology greatly reduces non-linear distortions that have previously plagued even the finest magnetic-based systems, all the while increasing the bandwidth and efficiency of the transformers' noise dissipation.
Transient Power Correction: Provides over 90 amps peak instantaneous current reservoir with reduced line impedance for current-starved power amplifiers, whether they incorporate linear or switching power supplies.
Patented Ground Noise-Dissipation System: 6 banks of direction-controlled ground noise dissipation. AQ's patented technology vastly reduces ground-borne noise without compromising safety or creating low-level ground loops.
21-Octave Ultra-Linear Noise-Dissipation Technology: Ensures the most consistent and widest bandwidth noise dissipation possible, without the inconsistent results that typify minimalist, multi-node resonant peaking found in many AC power conditioners.
Ultra Low-Z (low impedance) NRG Series AC Power Inlets and Outlets: Feature a grip with far lower resistance (utilizing far more mass than conventional or audiophile-grade designs), with a heavy Hanging-Silver plating to ensure the lowest impedance at radio frequencies, enabling superior noise dissipation.
Dimensions: 17.5" W x 5.24" H x 17.2" D (3-RU rack-mounting ears, optional)
Weight: 81 lbs.