Kaleidescape movie servers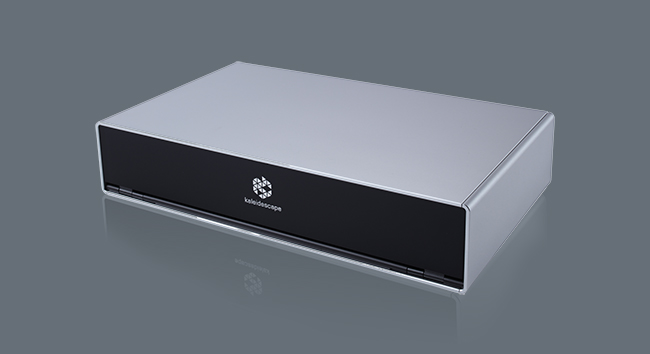 The high performance core of a multi-zone system
The Terra movie server stores up to 40TB of movies and serves them to any number of Strato players in the home network.
Terra also provides computing and caching services that enhance player performance.
Up to ten Strato players can play 4K movies simultaneously from a single Terra movie server.
A system may contain any number of Terra movie servers.
Playback from hard drive or network delivers true 4K Ultra HD with bit rates up to 100 Mbps and frame rates up to 60 fps
Support for high dynamic range (HDR)
Compact form factor (1RU tall)
Superb upscaling of Blu-ray and DVD quality content to 4K resolution
Seamless switching between 4K Ultra HD, 4K upscaled Blu-ray quality or DVD quality content, and the 4K onscreen user interface
Lossless multichannel audio, including Dolby Atmos, Dolby TrueHD, DTS:X, and DTS-HD Master Audio
Strato S stores between 180 and 360 movies with a typical mix of 4K Ultra HD and Blu-ray quality titles
Strato S can play back from other Strato movie players, Kaleidescape Terra movie servers, and Kaleidescape Alto movie players
Compatible with popular control systems and universal remotes
Custom rack-mount hardware is available (sold separately)